Tripod Travels Photo Festival
£165.00 - £0.00 Deposit
Fully Booked
Tripod Travels – Photo Festival
BOOKING IS NOT VIA THE WEBSITE! This event is open to Tripod Travellers (you know who you are!) and is not on general sale. Please place your name on the TT Facebook Group post dated 1 September 2021 to register for a ticket!
Thanks to everyone for your interest in getting together for a little social event early next year. Despite lockdown easing, we've still not seen you in person, nor have we enjoyed your books, prints or other photo creations; so, a desire to put this right is at the heart of our idea for this event.
We were completely bowled over by how many of you expressed interest and we've worked hard to put together a really fun, interesting, and varied couple of days for us to spend together, with plenty of time factored in to catch up with each other and enjoy Whitstable, do some photography together and listen to some engaging speakers on landscape as an art form, book making and printing.
Format
The outline plan is as follows:
Date
27-28th January 2022
Thursday/Friday to accommodate those wishing to extend their stay over the weekend.
If you arrive the night before (wednesday), let us know - we'll be about and we'll gladly see you in one of the lovely pubs in town for an early evening drink or two.
Place
Hosted in a local arts centre, The Horsebridge, which has a lovely first floor room for our use and is situated in the heart of the town and by the sea.
Accommodation across any budget is plentiful in Whitstable at this time of year. See below for some suggested places.
Content Summary
We have lined up three expert guest speakers, providing a mix of talks and interactive sessions for us on landscape art, theory and practice, book making and photo printing tips & techniques.
We're including an option for anyone interested in a 121 critique/discussion with Lizzie and David Hayward on the morning of day 2, priced at £15, limited to 6 tickets.
Photo walk in Whitstable with Alex and Lizzie and plenty of opportunity to catch up and chat about all things photography and otherwise.
Evening drinks together & private wine tasting event before supper at the Hotel Continental on Thursday 27th January.
Cost
£165 per person (plus optional £15 for 1-2-1) – this price includes:
Talks and walks as above
lunch on day one (local sandwiches, inc. vegetarian option, crisps, and sausage rolls)
morning tea and coffee both days
a free print of any of your work sent to you via Fotospeed
pre-dinner wine tasting event on the 27th hosted by a sommelier
10% meal deposit on your two course supper (£26.95) at the Hotel Continental; pudding is also available as an extra!
Based on a min/max number of 30-34 people, we can deliver the event as outlined above. This should also achieve our aim of a fun, relaxing and bespoke event for us to enjoy together in the depths of winter! We can't accommodate more due to the limitations of the venue, pubs and restaurants and we must remain true to our aim of a more intimate event for just the TT clan.
We must commit to deposits for various elements to make the event happen, so if we don't reach our min number before December 1st, we will of course refund you.
To join us, please place your name on the Facegroup post to confirm you can make the dates and Alex will send you an invoiive. It's on a first come first served basis and subject to getting 30 people together due to the overheads.
About our speakers
David Hayward (www.david-hayward.com)
David is the former head of art at Canterbury Christ Church Uni and is a wealth of knowledge on the subject of 'the landscape' and its representation in the arts. Like us, David is a fellow landscape artist, preferring brushes and easel to camera and lenses. Now retired, he has more time to create his own beautiful paintings inspired by the landscape.
Alex Czinczel
Alex is a renowned book maker and her books are held at St Martins College where she also teaches. Alex will explore book making techniques relevant to us photographers including the portfolio style 'blizzard' book design, ideal for our photos.
Tim Jones
Tim from Fotospeed is known to many of you for his help when the printer won't do what it's told! Tim is also an excellent photographer and printer, and he will run a session on printing tips and tricks and his process for selecting the paper and matching the print to the image on the screen via Lightroom and Photoshop.
Where to stay
There are three main hotels in Whitstable: The Continental, The Marine and the Travel Lodge. The Continental is a 10 min walk to the Horsebridge, The Marine is a 15 min walk and the Travel Lodge has a bus departing from just outside, going down the hill and stopping at the Horsebridge.
Beside this, there are scores of lovely little B&B's and self-catered options in the town. It's low season, making prices and availability favourable to us. A search on Airbnb, Booking.com or the local Visit Canterbury website will plenty of options at various sizes and price points.
We'd always recommend any accommodation where you feel able to walk to both the Horsebridge as our main venue and the Hotel Continental for our evening meal.
Full Itinerary
26th January
Arrive and check in for anyone staying the night before. No fixed plans but we'll hopefully see anyone that wants some company for a drink, or two, in the Duke of Cumberland, a nice pub in town.
27th Jan - Day One
9.30 Arrive at The Horsebridge
10.00 David Hayward – Part One
'Landscape art history & practice.' An introduction to how artists approach, interpret and depict the landscape and how this can equally inform our ideas, style, and approach to the landscape with a camera.
David will discuss the rise of the genre, the practitioners that depicted it and the ideas, themes, and concepts that their work brought to an audience. This talk will also look at how, as a landscape painter, an artist approaches the landscape and how that might be relevant to us as photographers
Tea & coffee
11 .00 David Hayward – Part Two
Lunch – buffet of sandwiches, crisps, and local pastries from Whit Produce Store
14.30 Photo walk with Alex and Lizzie
A chance for some fresh air and a walk along the sea front from the harbour towards the Neptune pub enjoying what we see and feel like photographing. No need to be a big group, we encourage you to explore for yourself or wander with us if you feel inclined. If you fancy it, we could have a drink in the pub.
In the event of inclement weather, a photo talk by Lizzie at our venue will be on offer.
Return to accommodation
18.30 Drinks
Evening drinks and food at the Continental to include a pre supper local wine tasting event hosted by a professional sommelier!
20.00 Supper
Two course meal £26.95; 10% on your ticket for the event has been paid towards your meal; puddings are also available. The hotel will arrange to settle the meal bill with each of us individually on the night.
27th Jan - Day Two
9.30 Arrive at The Horsebridge
10.00 Fotospeed talk
Printing, tips and tricks, and a chance to ask Tim anything you like, play with various papers and see his Lightroom printing process.
Optional pre-booked 121
As this is running, anyone booked in for a critique will see Lizzie and David for a 20min 121 review of their work. You might like to discuss your work from both an art and photographic point of view and discuss how you wish to evolve your photography and how any of the art ideas, concepts, and styles etc might be used to inform and develop your approach.
11.00 Tea and coffee
Tim will remain for any Q&A or general discussion printing etc, but this period is free for those that want some time to get out and explore Whitstable's high street or spend time with friends in a coffee shop.
Lunch – no set plan for lunch. Feel free to make your own arrangements or if you prefer, we suggest we split into small groups and go to the local tearoom, the excellent chippy, or the Whit Produce store as these are less than a 1min walk from The Horsebridge and are lovely, locally run places ideal for a quick bite.
14.00 Books demo session with Alex Czinczel
Alex will demonstrate some new book making techniques relevant for photographers including the 'blizzard' book style (ideal for photo portfolio display) and we'll have a chance to practice some of the basic folding techniques, ask her questions and see her examples. We'll endeavour to record her session for play back at home should you wish to try this style of book yourself.
16.00 Home/End.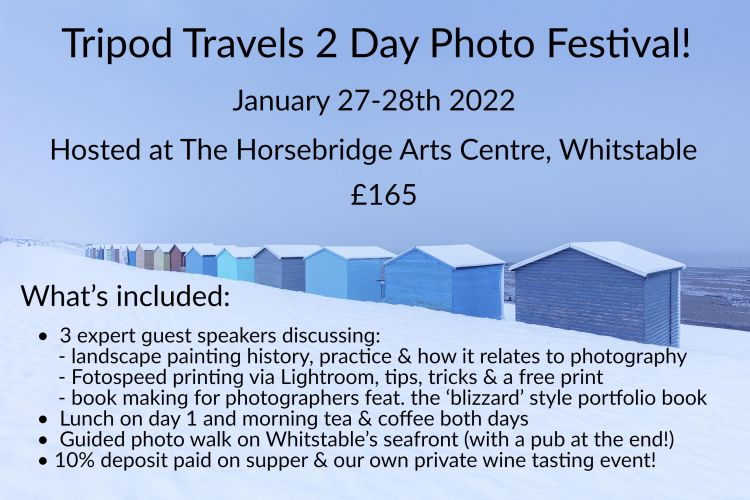 Tripod Travels Photo Festival FAQs
Where is the event being held?

Our venue each day, meeting at 9.30am, is the Horsebridge Arts Centre, Whitstable. please note there is no pakring here, see the FAQ on parking if you require this.

Getting To Whitstable

Whitstable lies on the M2/A229 on the north Kent Coast. it's easy to reach via road or direct trainn from London St Pancras.

If it's Fully booked what can I do?

Please get in touch via email or telephone and we can put you on the reserve list. If a place becomes available we'll let you know.

I'm arriving the night before, is there a plan to meet up?

If you're coming down the night before please tell me via email as Lizzie and I will be in town for a couple of drinks and we'd love to see you. We'll confirm a pub nearer the time via email.

If there's a few of us, we may be able to book a table or two at a Tapas restaurant we like but it all depends on numbers. If there's loads of us, we might need to just pile into the local Ask or Zizi…or head to separate places to suit available tables. The main thing is we don't want anyone left on their own (unless they want to be) so we'll ensure that doesn't happen at the very least.

If you prefer to find your own place to eat, we recommend the Harbour St Tapas (outstanding food), Samphire, Wheelers (if you can get a table-they only have 4(!) so feel free to book in advance as its winter midweek there's always a chance and it's the best seafood ever!), VC Jones (for a great fish n chips with backroom restaurant), The Pearsons's arms (for up market pub food) or any one of the pubs, curry houses or chain pizza restaurants for something simple and easy.

I'm interested in the 1 to 1 session with Lizzie and David Hayward, what does this entail?

Quite a few of you indicated you'd like the option of a image review session so we've tried to create something really useful in this respect.

On the morning of day 2, whilst Tim is doing his printing session, we have the second room available for image review and creative discussion personal to you. This is with Lizzie (from a landscape photo POV) and David from a landscape, accademic and art POV. It's a rare chance to have a discussion about your work with two people with all these angles to offer help and discussion with you on your creative direction.

The session is 20 mins each and there are 6 tickets for this at £15 each.

To book a 1 2 1 place, please email Alex to say you'd like one and, if we have 6 people, we'll take payment from you.

If we don't sell all six tickets we wont run this aspect as it cannot cover David's (very reasonable) fee.

What's the plan for lunch on day 2?

Lunch isn't included on day 2 because we felt we'd like to get out of the venue before our final afternoon session. Tim's printing session and the 1to1 sessions are starting at 10am, so we'll be free by late morning allowing us all time to go out for a wander on the High St, walk by the sea, head to a coffee shop with anyone you'd like to catch up with, or go to the pub!

Just be back for 2pm when Alex Czincel will start her fab book making talk and demo. This we'll try and film so that we can place her techniques onto our usual Vimeo channel and make it available to you after the festival.

Where shall I book to stay in Whitstable?

There are three main hotels in Whitstable: The Continental, The Marine and the Travel Lodge. The Continental is a 10 min walk to the Horsebridge, The Marine is a 15 min walk and the Travel Lodge has a bus departing from just outside, going down the hill and stopping at the Horsebridge.

Beside this, there are scores of lovely little B&B's and self-catered options in the town. It's low season, making prices and availability favourable to us. A search on Airbnb, Booking.com or the local Visit Canterbury website will plenty of options at various sizes and price points. We'd suggest looking at a map to find one as close to the Horsebridge as possible so its an easy walk each morning to the venue.

Terms and Conditions – Tripod Travels Photo Festival

Tripod Travels means Alex Hare and Lizzie Shepherd.

Your payment of the fee and email confirmation of your payment and ticket constitutes your ticket to this event.

The festival is the 2 day event in Whitstable on the 27 & 28 Jan 2022.

Tickets are not refundable other than cancellation of the event by Tripod Travels or unless the event is moved to another date which prohibits you from attending. Multi speaker events may include changes in line up or venue which do not constitute material change, and therefore do not qualify for a refund. In the event of cancellation, the full value of the ticket will be refunded to your nominated account.

The Rules and Regulations of the venue (The Horsebridge Arts Center), for which this ticket was purchased, apply to this ticket.

There is no obligation to refund monies for alterations to the programme due to events or circumstances beyond our control.

Tickets are not transferable but if you require a transfer please let us know and we will try and help.

Tripod Travels and the venue management accept no responsibility for any personal property.

All of these terms and conditions are governed by English law.

I need to self drive and park near the venue, what are my options?

The best biggest car park in Whitstable is the Gorrel Tank car park-it's the big one by the harbour and less than a 10 min walk to the Horsebridge. Use postcode; CT5 1BZ.

The closest one to our venue (The Horsebridge) is Keams Yard, postcode: CT5 1EP. It's a 2 min walk to the Horsebridge.

Is anybody around on Friday night? I might stay over the weekend to explore a bit more.

We haven't organised anything over the weekend or Friday night but if you wish to arrange anything with anyone that's coming please feel free to do so. The Facebook post indicates who is coming so you can chat and arrange anything you wish.

I have a query not covered here, who do I contact?

Please email Alex for any queries about this event. In an urgent need to contact him, please call his mobile on 07900 576 071.
Date

27th - 28th January, 2022

Duration

2 days

Group Size

30

Included

3 Expert Speakers

Lunch on day 1

morning tea & coffee both days

free print courtesy of Fotospeed

private evening wine tasting event

10% towards your meal on the 27th (2 courses: £26.95)

Excluded